Last week, HUB welcomed a super-special visitor back to our Mill! Callum Gamble returned to HUB for the first time since his week-long work experience placement in 2012, presenting his brand-new book, 'From the Dark to the Light: How I Came to See the Positive Side of Autism.'

After reminiscing about his 'life-changing' experience at HUB, Callum reunited with the former colleagues who sparked his interest in creative media. Callum graduated from Leeds Beckett University in 2019 with a first-class degree in Creative Media Technology. 'HUB was the start of that journey for me,' he said.
He also discussed a 'really horrid' three-week placement at a different agency, which he details in his book. 'The experience I had at that company compared with the experience I had at HUB was just like night and day,' he said.
[At HUB] everyone made me feel so welcome. This was the first environment where everyone treated me like a proper adult, and I really liked that.
Callum has since founded his own website design agency alongside his mum, Caren. KreativeInc is the UK's leading web accessibility agency, on a mission to make websites accessible for disabled and neurodivergent users.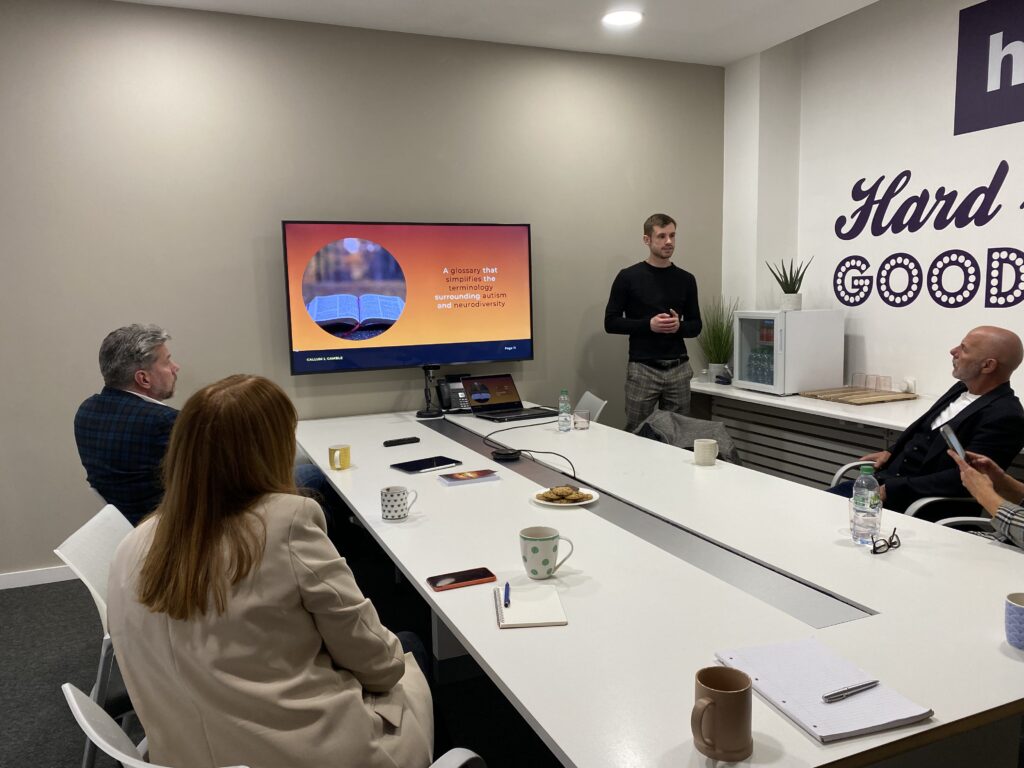 It was incredible to see first-hand how HUB's values of doing the right thing and valuing our people can inspire someone like Callum to unleash their full potential.
Rather than just 'putting things on him' like other agencies might have, Caren remembers how HUB's unique approach set him up for a future as an author.
'I can remember why it was such a great experience, because [Callum] was totally blown away,' she said. '[HUB] actually talked to him about developing a blog and I, as a mother, thought that was so intuitive. You looked at what Callum was passionate about, what he was interested in. That was probably the big difference here at HUB – people actually cared about the individual.'
HUB chairman and co-founder Chris Hudson was particularly moved by Callum's return to the Mill.
'We're going to have lots of meetings and lots of visitors throughout 2023, but this was really touching,' he said. 'I'm not surprised at all that this is where Callum has ended up. I knew from the moment I met him that he was going to do something really special. It's such a privilege to be part of it.'
So why does he think HUB was such a positive experience for Callum?
'One thing I've always liked about our business is that, because we're an integrated agency, you're managing a lot of different personalities,' Chris explained. 'Managing a creative person is a lot different to managing a data scientist, and it's that experience, that attention to detail, and just treating our people as individuals that I think Callum really responded to while he was here.'
Callum officially launched 'From the Dark to the Light: How I Came to See the Positive Side of Autism' in Brussels on Wednesday 26th April.

Ready to discover Callum's story? 'From the Dark to the Light: How I Came to See the Positive Side of Autism' is available to buy on Amazon: https://buff.ly/3V1ohqJ